When a friend asked me to come up with some ideas for her daughter, I jumped at the chance. Victoria* is a real girly girl; she loves fashion, music, and hanging out with her friends. Her room hadn't really been redecorated in a while, and she felt like it was a bit baby-ish now that she was growing up. Together, Victoria and I came up with some really cool ideas for her bedroom and she's really excited to get started doing the work. I wasn't given permission to share photos on the blog due to privacy concerns, but I am sharing all our inspiration images and the furnishings we picked out.
Victoria needed a space where she could sleep, do homework, and chill out with her friends. They love sleeping over at each others houses, but usually ended up on an air mattress on the floor. She has a decently sized bedroom, but nothing massive, so I had the challenge of fitting multiple pieces into one room. Luckily for me, I have had the same experience! I decided to pick things that could be used in different ways so that we maximized our use of her space without compromising on style.
The first thing we found was right on the nose. I took her to Houzz to start with instead of Pinterest, so that we could get some basic ideas that she could recreate, and this leapt out at us almost immediately. The wallpaper is called Walldrobe, and it's available via Wallpaper Direct. I absolutely love this, and it's perfect for Victoria. We decided that she'd put it up on the wall above her bed. The designer (Mr Perswall Murals) has some amazing wallpapers available and is definitely worth checking out. I love this wallpaper so much I might even get it for myself!
The floral fabric on the Louis chair and the purple zebra are so cute, and completely customizable. She chose to go for a more plain fabric on the bench and a fun fabric for the chair. The picture above is from Loom Decor, so we browsed on their website to find fabric inspiration that she could take to her local fabric store. She chose this 'cheery blossom' fabric in gray and pink for the chair and a bright pink for the bench, but she also decided to get samples of a blush pink and large rose print as well.
Our third picture is definitely very feminine, and reminded me to mention daybeds to Victoria. A day bed can be used as a sofa in the daytime, and then convert to a sleeping space at night. We poked around on PBTeen and RH Baby & Child, and found the Elsie daybed with an extra trundle. We also found a matching bed and dresser to go with it, so that the furniture ties in together. She also loves the dress form and the mirror, which are both from Homesense.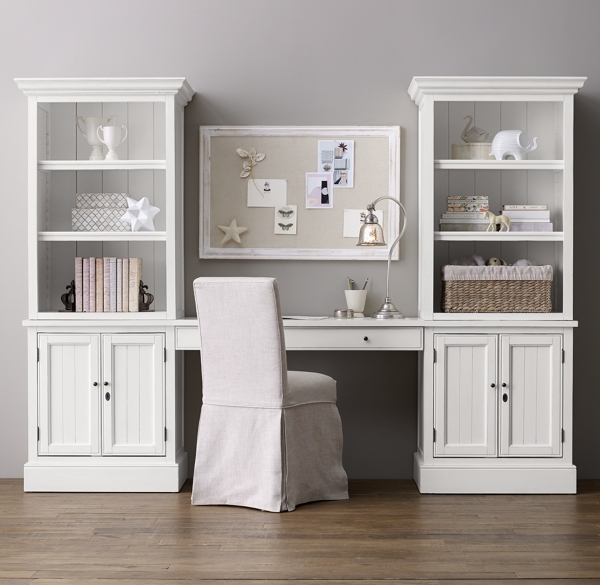 I mentioned earlier in this post that we needed to make the best use of the space, and this Harper Study Wall piece from RH not only has plenty of storage and display space, but can also double as a desk and vanity. The shelves give Victoria a place to display her fashion books and prettiest shoes, and she can lean a mirror against the wall underneath the desk space when she isn't using the desk as a vanity. The lower cabinets have lots of storage for school supplies, and she could even tuck some spare pillows and blankets in there as well.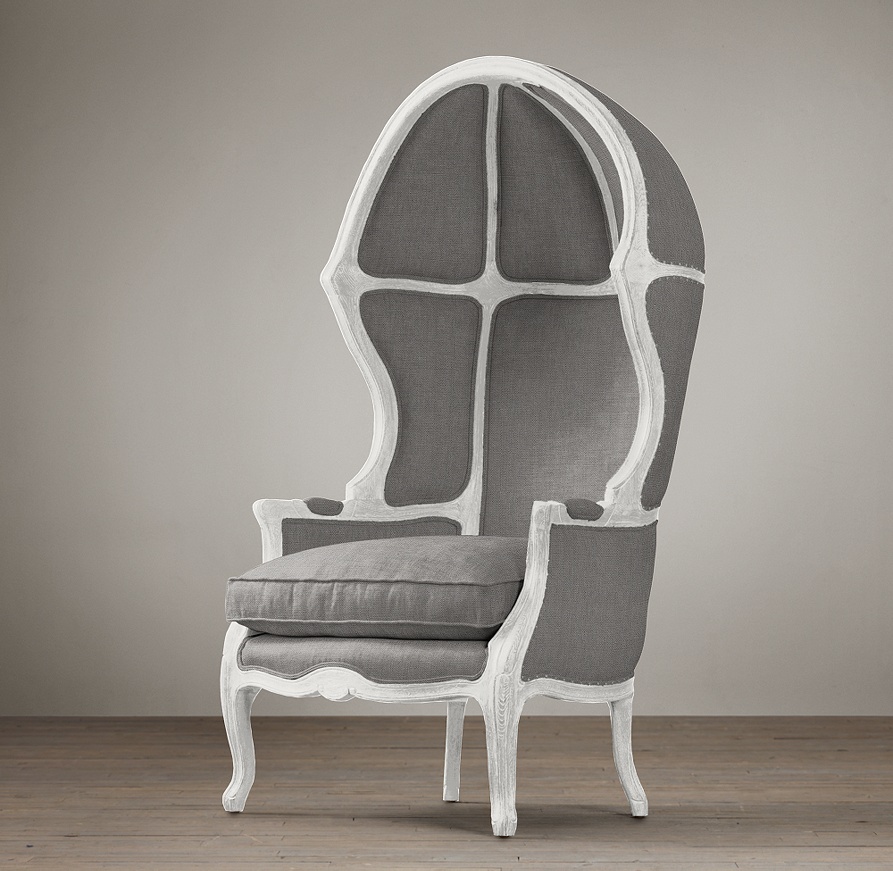 Victoria's parents have a Versailles armchair (in fog) from RH, and were nice enough to let her have it. Victoria decided that she wanted to repaint the wood for a crisper finish, and she picked the classic Chantilly Lace by Benjamin Moore. This will give it less of a rustic feel and will help make the piece more fashion-forward. Since the fabric is a neutral gray color, Victoria can dress it up in different throw pillows and blankets, and they'll always look coordinated.
When we were browsing for bed linens on PBTeen, and I showed her the Emily & Meritt collection, which she adores. We decided to pick up a few things. Pictured above are the zebra rug, Parisian petticoat quilt, scallop pinboard, and their stitch pillow covers. To change up the look of the bedding, she also picked out the pintucked bow duvet set, the garment dyed linen bedding set, and the chiffon floral bed throw. These are things that she's asked her family to buy her for Christmas.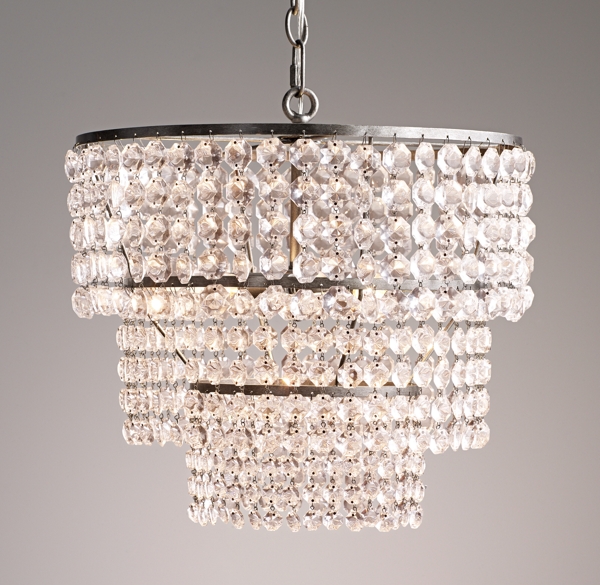 Victoria's parents also allowed her to pick out new light fixtures, and she chose the Soho Crystal large chandelier from RH Baby & Child. However, she had to choose between getting the chandelier and saving up for accent lamps, or vice versa. She chose to buy the Coco crystal accent lamps first and save up for the chandelier. (Did I mention that she loves RH as much as I do? Despite working for free, Victoria is definitely my favorite client.)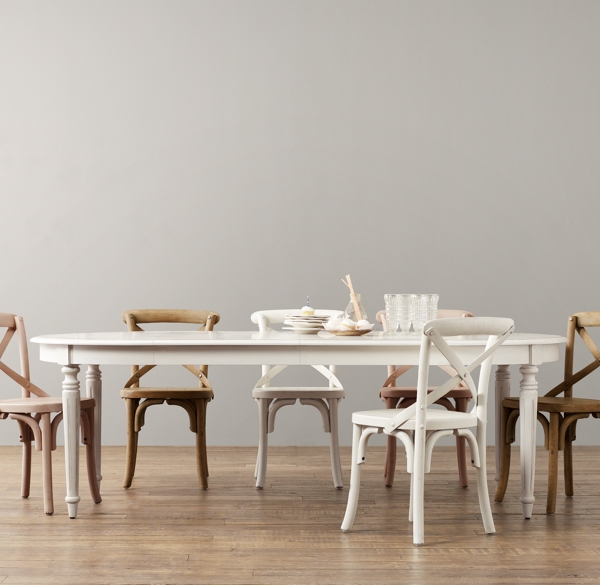 The last furniture piece is something that was donated by an aunt. The aunt's daughters had just outgrown their French Empire Extension Playtable and she asked Victoria if she would want it. It has a lot of scratches and stains, but Victoria decided to accept it and use it as a coffee table. She and her father are going to make a project of sanding it down and repainting it in the same paint they're going to use for the Versailles chair. She already has a little sculpture and some fashion books that she plans on dressing it up with, and is going to DIY some coasters (1, 2, 3) for her friends to put drinks on when they're over doing homework or watching tv.
Shopping for artwork is always fun to do. Victoria does her own fashion designs, so I suggested that she pick her favorites and frame them in a gallery wall. She was a bit shy about having her designs on display, so we went on Etsy and picked out some cool pieces that she could either purchase or DIY. She loves this leopard coat piece by Emily Brickel, a classic 'More Issues Than Vogue' typography piece, this Louboutin shoe print, and this reproduction of the 2010 German Vogue cover. The best thing about Etsy is that she can change up her art fairly often with afforable printable artwork!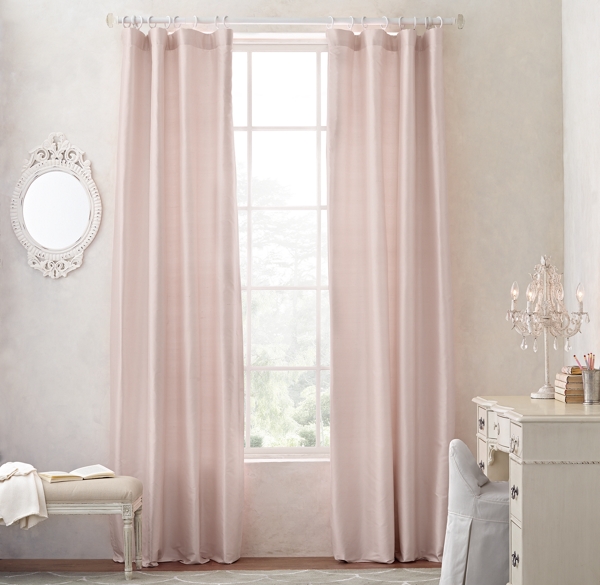 Last but not least, I suggested that Victoria replace her current plain beige curtains with something that suits her better. She doesn't have to worry about pets or younger siblings, so getting long drapes that touch the floor wasn't a problem. She picked out these washed silk drapes from RH Baby & Child, and this simple linen-cotton roman shade to go behind it, to help with blocking out light.
The last few things she's getting are going to be more functional. Her parents are replacing their bedroom tv and are going to wall-mount their old one over Victoria's dresser. They're also going to purchase a little mini-fridge for her, so that she can keep snacks and drinks in her room. That way movie nights won't have to be interrupted for the inevitable water run! She also plans to bring in flowers from her mother's garden to add some nature to her bedroom. I suggested white hydrangeas, because they're so pretty and there's a tonne of them on her property.
---
Victoria and I had so much fun planning her room updates, and I hope she loves it just as much when she and her parents finish putting it all together! I gave her some quick tips on how to style her room, and told her to keep following her passion. She's in the process of convincing her parents that she needs some cuter stationary for her fashion drawings. Getting to work on such a youthful and girly space was a treat for me, as I tend to stick more towards sophisticated and reserved designs. I hope you enjoyed this peek into a cute bedroom design, and found some inspiration for yourself!
Name has been changed for privacy reasons. Unknown source for header image.