I spend a lot of time at my desk. I don't just mean a couple of hours, I mean almost every waking hour is spent at my desk. I'm either working, catching up on tv episodes, reading blog posts, or searching on Pinterest and Houzz for new ideas and innovation. Your desk space should reflect your personality, and be styled in a way that encourages imagination and productivity. With school starting, and the rest of us starting to get pre-holiday rush work, I decided to write a post with some of the most lovely and chic workspace accessories that I could find.
Keep reading to see if you can't get a little inspiration for your own space!

First off, the most essential thing to keep your space chic is pretty storage. This is the Bedford Lateral File Cabinet from Pottery Barn, which I definitely prefer in their antique white finish. It's perfect for storing large amounts of files – dedicate one drawer for personal paperwork, and the other for business. It's also a great surface to pop your printer on. I'd style the other side with jewellery, or put down a mirrored tray and arrange a mini bar on top. If you don't want to damage your walls, sit your inspiration board on the very back and lean it against the wall.
This beautiful thing is 'The Chairman' by Christopher Guy. Everyone needs a super chic and comfy chair, especially if your butt is planted in it for the majority of the day. I'm using an extremely cheap desk chair at the moment, and it desperately needs replacing. It's uncomfortable, the back squeaks every time you move, and I broke one of the wheels. If you're like me, you're at your desk pretty much the entire time you're working, so choose a chair that makes you feel comfortable. To some, that's something ergonomic and sleek, but for me it's definitely squishy and oversized.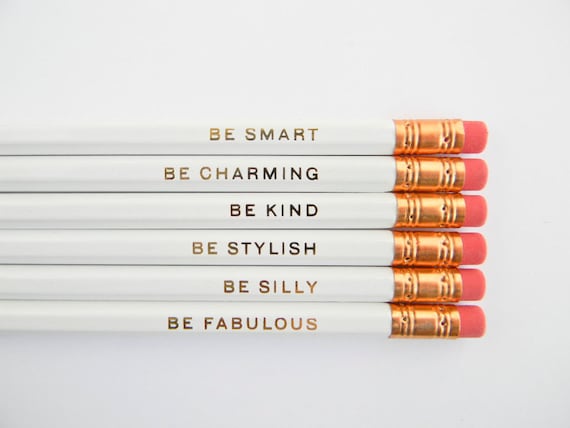 These Gentle Reminders pencils by Amanda Catherine Designs on Etsy are so cute, and are perfect little reminders for when you're working hard. I love to keep pencils around to quickly sketch out ideas, or write notes that I may want to erase. These would look gorgeous sitting in a mug or a pencil cup, and you can find similar ones on Etsy to build a little collection. Mix them up with some pretty pens, or keep your pens and pencils separate in complimentary storage.
Everyone should have a nice smelling home. I'm currently burning the Honeycomb and Toffee Pudding candle by the Aromatherapy Co, and it's incredible. I also love the smell of gardenias, so the Gardenia candle by Diptyque would be another great option. Definitely choose something that makes you feel invigorated, but remember that candles will have a weird smell after you blow them out. A bonus tip: burn a different candle for each subject while you study, and wear the same scented lotion during your exams. Scent memory is one of the strongest kinds!
This is the Luxe greeting card organiser from See Jane Work, and I am absolutely in love with it. It is so glamorous and understated, but I've always adored black lacquered pieces with gold hardware. You could probably also spray paint it white, if you were very careful. A greeting card organiser is an essential for me, to corral all my thank you cards and birthday cards and things that come across my desk that make a mess. You could also use it to store things like electrical equipment, business cards, receipts, or little snack packets.
I have wanted the Reiko Kaneko Lip Tease mug for years – it was love at first sight. The gold edging and the lip print are so glamorous and girly. Getting both the Lip and Drip tease mugs would be even better; they'd look gorgeous next to each other on my desk holding pens and pencils. There are a lot of incredibly chic mugs and cups available for styling your desk, and you can find anything that suits your needs. You can even get something customised.
Personalised stationary is the ultimate in luxury desk supplies (at least in my opinion). Ever since I was a child, I wanted stationary that came pre-printed with 'From the desk of' on the notecards and letterhead, and my address on the back of the envelope. This is the custom letterpress stationary from Sugar Paper, and is pretty much the loveliest set that I've ever seen. It is fairly expensive, but definitely worth the investment. You'll come off more professional, and it saves you from writing your return address out over and over.
This is a classic and chic desk calendar (also from Sugar Paper) and it matches the personalised stationary! I absolutely adore desk calendars in this format, because I'm always losing track of time. This one is so simple and elegant, with a beautiful serif font that is my absolute favourite. If my entire life resembled this desk calendar, I would be a happy lady. This one is fairly similar to the Tory Burch one that I also love, but is no longer available.
The fabulous Day Designer (in black stripe) is another beautiful, simple, and incredibly chic desk accessory. Personally, I'm a big fan of the Erin Condren planner for the vertical weekly layout, but this one is much prettier. The hardcover also makes it more of a luxe statement piece, and if you don't end up using it to plan your day, you can pop a small tray or a ring holder on top with a candle to make a little vignette. This planner is perfect for the busy girl, but if you can't afford it, you can always get some of their free printables.
Kate Spade (again!) has some of the prettiest desk accessories, which is why she's featured multiple times in this post. These are the gold bow push pins, which I've seen all over the place, and are so adorable. A quick tip: choose push pins that look good on your inspiration board. If you use ugly push pins, you'll be distracted by them whenever you look at it for inspiration. These ones match the aesthetic I want for both my business and my room, so they're the perfect option for me.
If you're like me and you have animals that will steal anything they can get their grabby claws on, you'll need something super chic and glamorous to keep on your desk. The Tory Burch Rand Brass Box, perfect for hiding paper clips, bobby pins, and loose change. If you don't like the very bold gold colour, you can always DIY one using a wooden storage box from a craft store, and something pretty to stick on the top.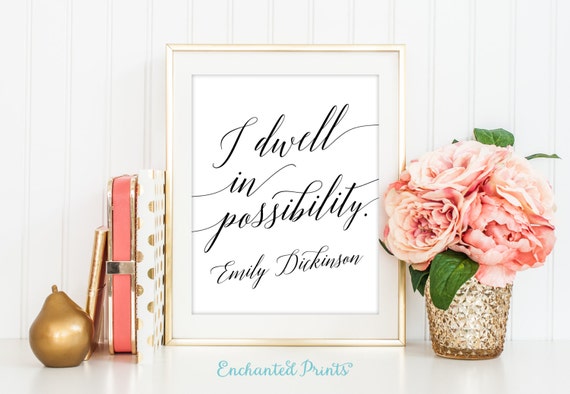 I love to display beautiful artwork in my work area to inspire me. This is one of the incredible pieces offered by Enchanted Prints on Etsy, and I absolutely adore it. The calligraphy is beautiful, and the quote always reminds me that anything I can dream of can happen if I work hard (and smart) enough. For a chic display, mix in some inspiring quotes with little framed cork boards so that you can easily change out your inspirations. I also love the idea of framing key pieces in a gold frame to help them stand out even more.
Finally, everyone needs a gorgeous table lamp on their desk, and this is the Robert Abbey Annika table lamp that Rach Parcell has in her closet/office! I think a statement table lamp is an essential – useful for both aesthetic purposes and for functionality. You may need to add a bit of extra task lighting, but if you choose one that you can store away when you're not using it, then the impact of this stunning table lamp won't be diminished. You can get it in a range of colours (black, navy, red, blush) and if you really felt like it, you could also customise it.
---
You've probably noticed the black, gold, and white colour scheme I have going on here. I'm always inspired by classic pieces in classic colours. Adding in pops of colour with rose golds and fresh flowers gives my space the life it always needs. At the moment I am dealing with a very sad and basic workspace – but I intend to invest in my space to help inspire my work!
Remember to always style the way you want to, not everyone's tastes are going to match. If you love having a busy workspace, add desktop storage containers to corral any potential disaster zones. If you prefer a super minimal space, opt for storage boxes that you can hide away under your desk, and keep only your absolute essentials on top.
Header image is from The EveryGirl.