Bar carts are one of the most versatile pieces of furniture you can have in your home. Apart from a gorgeous way to store and display your alcohol, they're also an incredibly chic option to use in your bathroom. If your bathroom is like mine, and lacks counter-style storage space, a bar cart is a fairly inexpensive way to gain more space, with the ability to style it however you want to. In every 'dream house' mood board that I come up with for myself, there is always a bar cart for the bathroom. Go below the cut to find out how I would style one!
The bar cart
The first thing you'll need is the actual cart. This one from One Kings Lane isn't available anymore, but it's the perfect one for me. You can get two or three levels, and usually you'll be able to find something in your preferred finish as well. I've even spotted ones completely made out of lucite, which would be great if you don't want to take away any visual space.
pretty products
These are from the Cote Bastide collection at Postcard From Paris. Every bar cart needs some beautiful products! Just remember that packaging isn't the only aspect to consider. Personally, I think minimal packaging lends an understated elegance to a space, but I'd never buy something I didn't like just because the bottle looked nice.
storage jars
These apothecary style jars from Pottery Barn are a great way to store things that you don't want to leave open to damp air, such as bath salts. They're also a great way to display guest soaps and samples, and even simply as a decorative aspect for products you don't intend to use.
plant life
Artificial or real, bring in a touch of nature by including a pretty plant or flower on your cart. If you're using real plants, check and make sure that they're suited for bathroom environments. Orchids, peace lilies, and bamboo are some of your best options.
more pretty products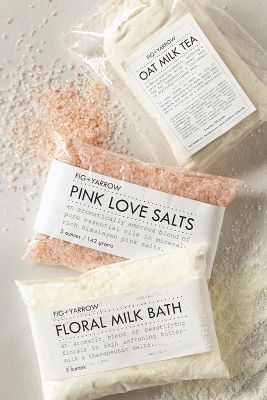 I may have a thing for lovely bath products, but then again – they're the whole reason you're considering a bar cart! These ones are things that you can store in those apothecary jars I mentioned earlier. Don't forget to add a little scoop; I recommend a polished metal one, to stand out a little more.
spare towels
Keeping towels on your cart may be a bad idea if you don't have proper ventilation in your bathroom. But if you're using them in a guest bath, just pop a few nice towels on before your guests arrive and you won't have to deal with any mildew problems. However, if you have good ventilation, then having towels on your cart pulls everything together! You can keep them rolled, or you can fold them, and these towels from the Macy's Hotel Collection look so pretty!
---
If you're looking for a stylish and simple way to store things in your bathroom, a bar cart is the best way to go. If this inspires you to put together your own, show me in the comments! I'd love to see how you style your cart.
The background photo used in the header image is from PinkPeonies.